Welcome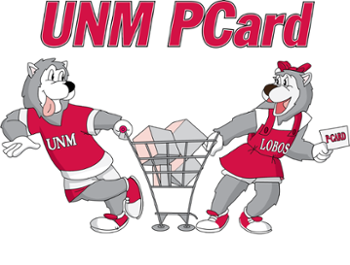 The Policies and Procedures in this site are reflective of the Chrome River update.
The Purchasing Card is a tool issued to UNM employees for the purpose of making purchases on behalf of the University not exceeding $10,000/transaction for goods, materials and supplies or $10,000/transaction for approved services. This section contains links to information about the PCard, UNM Cardholder Policies and Procedures, Using the PCard to Purchase Airline Tickets, and Chrome River procedures for transaction allocation and reconciliation. If you have any questions, please e-mail the PCard Office at:
pcard@unm.edu
Note: The Training Material links below are for reference and informational purposes only. You must enroll in the training courses through Learning Central in order to be eligible to obtain a PCard (PCard Program -346) and/or use your PCard to purchase airline tickets (PCard for Travel - 343), and Coffee with Purchasing (Purch 101). You can register for training through Learning Central
here
.
Announcements
The Accounts Payable and PCard departments are available for walk-in hours to allow departments to pick up Checks, PCards, and Costco Cards.
Costco Business Membership Cards
Costco Business Membership Cards are available for UNM business expenses. Cards are issued on a first come first served basis and are not reserved. Borrowed cards must be returned to Accounts Payable the same day that they are picked up.
ETTA Travel Booking Tool Notice
The ETTA travel booking tool is the preferred method for booking UNM business travel. Please visit UNM Travel for detatil about the booking tool and UNM Travel program.
PCard Forms