The UNM PCard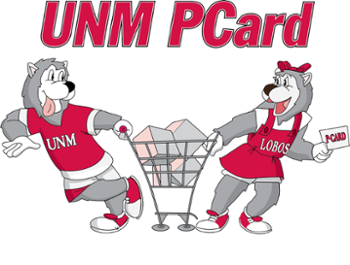 Purchasing Card Information
The Policies and Procedures in this site are reflective of the Chrome River update.
The Purchasing Card is a tool issued to UNM employees for the purpose of making purchases on behalf of the University not exceeding $10,000/transaction for goods, materials and supplies or $10,000/transaction for approved services. This section contains links to information about the PCard, UNM Cardholder Policies and Procedures, Using the PCard to Purchase Airline Tickets, and Chrome River procedures for transaction allocation and reconciliation. If you have any questions, please e-mail the PCard Office at: pcard@unm.edu

Note: The Training Material links below are for reference and informational purposes only. You must enroll in the training courses through Learning Central in order to be eligible to obtain a PCard (PCard Program -346) and/or use your PCard to purchase airline tickets (PCard for Travel - 343). You can register for training through Learning Central here.
Office Information
Phone: 277-2014
Fax: 277-7774
Email: pcard@unm.edu

Mailing Address
MSC01 1250
1 University of New Mexico
Albuquerque, NM 87131

Physical Location
John & June Perovich Business Center
Suite 2600
Key Contacts
Please make note of the following contacts for your future reference if you need to:
Change cardholder information
Lost or stolen cards (must be reported within 24 hours)
Obtain a Purchasing Card
Policy/Procedure questions
Transaction Maintenance/Reallocation
Terminate a card
Vendor problems
Banner issues (FWAINVT)
Peggy Sedillo Manager
(505) 249-2227  
psedillo@unm.edu
Teresa Romero Operations Manager 
(505) 277-5236  
teresar@unm.edu
Reina Martinez PCard Coordinator
(505) 925-8403
rmarti@unm.edu  
Cayla Carr PCard Coordinator
(505) 277-1630
carrc@unm.edu
PCard Fax Number:  (505) 277-7774
---
Bank of America(866) 500-8262
Lost or stolen cards (must be reported within 24 hours)
To terminate a card
NOTE: Many of the documents linked to are in Adobe Acrobat (.pdf) format and require the FREE Adobe Acrobat Reader software. If you do not have this software installed on your machine, you can get it using the link below: